Cloud Contact for Enterprise Customers
StarPound Cloud Contact Center provides a complete solution that can easily breathe new life into existing contact centers or create new contact centers from scratch. Using StarPound Studio to model workflows and business processes allows the creation of very rich agent mashups that integrate multiple backend systems. Developers and process owners can have a Business Process Management-enabled development tool visually optimized for integrating voice, data and the Web within a contact center environment.


Components & Architecture

Integration is critical in modern call centers. As such, StarPound was architected with this in mind from day one.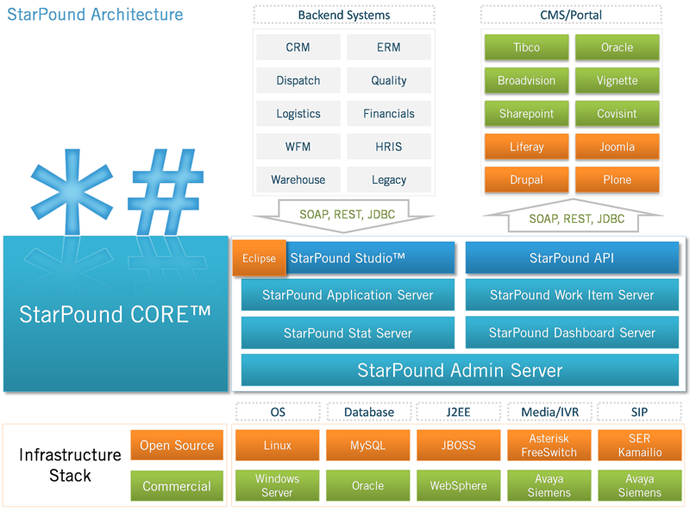 StarPound Application Server
StarPound's Application Server handles all incoming requests, drives voice tasks (IVR, call control, etc.), agent workflow (forms and pages), etc.
StarPound Work-Item Server
The Work Item Server is responsible for the distribution and management of work items (phone calls, emails, chat requests, etc.) to available agents.
StarPound Work-Item Console (WIC)
The Work Item Console (WIC) provides the agent interface for working within the context of each distributed work item.
StarPound Dashboard
On the backend, the StarPound Dashboard provides a realtime view of all call queues, work item statuses, agent statuses, availability, etc.


System Requirements
Deploying StarPound|Call Center (CE) in a call center requires the following:
A Java/J2EE application server (e.g. JBOSS)
JDBC-compliant SQL database (e.g. MySQL)
A functioning telephony environment (e.g. Asterisk, FreeSwitch, or a generic SIP switch)
A modern browser version on all agent computers
Either desktop or software-based SIP phones for agents
Sufficient bandwidth suitable for VOIP communications (varies, depending upon number of agents)

On-Demand Cloud Deployments

While StarPound CORE is packed full of features, we readily admit that it is a huge platform, and not necessarily something that is overly simple to install, configure, and maintain. For those customers who are ready to make the shift, but lack either the time or resources necessary to do it themselves, we do offer a full set of managed services that can help you quickly bring up and scale your IP call center in an on-demand, cloud-based model



Call Centers
The Problem
Walk into almost any contact center or enterprise customer support operation and you'll see a tangled technology infrastructure. Voice switches, voice response and speech recognition gear, routers, firewalls and servers for e-mail, Web and multiple different databases. These "silos" of voice and data are prohibitively expensive to buy, operate and maintain.
Complicating matters, many different workflow and integration technologies are in use, all attempting to take an incoming interaction, integrate it with associated internal and external data and route it seamlessly throughout the extended enterprise.

The Solution
The smart use of Internet Protocol (IP) changes everything. With the advent of IP, voice and data share a converged, lower cost network. Enterprises large and small are determining how to maximize the impact of innovative converged applications including voice and Web self-service, collaboration, chat and interactive live agents, to improve revenue, reduce costs, and gain market share.
At StarPound, we have built what we think is the smartest, fastest, most cost-efficient way for our clients to take advantage of this fundamental shift in the ability to optimize the extended customer value chain. The StarPound platform consists of two major components: StarPound CORE™, with a powerfully simple drag-and-drop visual modeling tool and runtime engine; and a secure, robust delivery infrastructure running in the cloud.

"Today's customers have high expectations for service delivery and are intolerant of delays and inadequate services. Contact centers that continue supporting customers with aging technology risk falling behind competitors in delivering first-class services."
Elizabeth Herrell, Forrester
Report titled "Why Contact Centers Need To Evolve"
Companies are struggling with tumultuous change at every step in the customer value chain – marketing, sales, fulfillment and support. For the contact center outsourcer or enterprise, this situation creates an unprecedented opportunity or poses unprecedented risk.
Successful contact centers will deliver advanced applications where information with merged voice and data can be provided on demand to any type of device over any type of communication channel. They will attach value to customers and transactions to transform unitary customer contacts to intelligent transaction arbitrage. And they will bring new services to market in days, not weeks or months. In the absence of these capabilities, contact centers should expect their business to degrade rapidly.
StarPound's on-demand delivery service is ideally suited to transform traditional contact centers into models for next generation services delivery, offering an array of innovative converged applications including voice and Web self-service, collaboration, chat and interactive live agents.
Multi-Channel – Voice, Email, Web, PDA, Fax. Consistent user experience
Computer Telephony Integration – Vendor-independent pre-built interfaces
Skills-Based Routing – Right resources, right time, any place
IVR – Voice self-service with natural language speech capability
Rapid Development – 50% less cost. 90% reduction in time to market
StarPound offers a next generation, multi-channel Contact Center that doesn't require a large up-front cash outlay, delivered through our trusted Service Provider partners, that provides a single point of contact, and delivers the people, tools and technology to stay ahead of the most demanding clients.
The Full Solution
Customer contact centers are mission critical. They must quickly adapt to changing customer needs and expectations. Failure to do so risks damaging customer relations, inhibiting loyalty and potentially impacting sales. Based on years of contact center expertise, The StarPound Project has developed a software engine that helps companies better keep pace in this rapidly-changing field.
StarPound CORE™ provides a development engine that can easily breathe new life into existing contact centers or create new contact centers from scratch. With StarPound Studio, developers and process owners can have a Business Process Management-enabled development tool visually optimized for integrating voice, data and the Web within a contact center environment.
Contact and call centers are inherently expensive to operate, and can add an enormous strain on the IT staff. When your technical resources are dealing with large hardware-based phone switches, and antiquated methods of shaping call center flow, you lose in the end. Those resources should be deployed in a way that adds incremental value to the organization and the call center — not just "keeping it running."
For starters, using Starpound's software pretty much eradicates the need to have a hardware switch altogether. While the rest of the world is moving to a VOIP/SIP network, why are you investing significant capital in legacy approaches to driving traffic? Sure, you have VOIP on the desks of your call center agents, but are you still running all of those phone calls through a hardware switch in a closet somewhere? StarPound's platform provides switching in the software layer, allowing you to truly take advantage of the economics behind VOIP and SIP.
Another frustrating part of managing call centers is the sheer effort required to make changes to inbound and outbound campaigns, and integrating the phone network into the agent's desktop. Most contact center vendors are happy to help you with this — and for good reason. Their systems are so complicated, and so siloed, that sometimes even making simple changes will require you to bring in a team of consultants to "enhance" your implementation. We think that is pretty silly.
In the StarPound world, an inbound call is a service request, just like a simple web service request. In a converged world, voice is data. You build a visual model to represent the desired flow of your call center's traffic. When you want to make changes, you simply edit the model and redeploy. Devlishly simple, yet incredibly effective. And since StarPound is a software solution, scaling to handle additional traffic (or even new physical locations) is a breeze.
The Benefits
Significantly Reduced Costs
Call centers traditionally require a significant investment in proprietary hardware and software. StarPound's Contact Center module delivers advanced contact center functionality in a 'per seat' price model. We have historically seen savings of anywhere from 50-95% over existing solutions.
Tight Integration with Business Processes
StarPound can help model and implement the entire workflow process of any contact center. It connects all the pieces from the Web and phone systems to internal business processes and data entry screens. That's especially important in these days of remote and widely dispersed agents – many of whom are working at home or offshore.
Since StarPound CORE™ is built around a web services architecture, it simplifies the process of putting the right contextual information in front of your agents. Every screen pop should count when time is money – and StarPound ensures this is the case for each and every call.
Speed of Deployment
StarPound reduces the time necessary to bring a contact center live by an order of magnitude. No more fiddling around with overly complicated hardware switches. And when you want to make a change to your call center flow, or integration into backend systems, you simply edit your visual business processes created in StarPound Studio.
Flexibility
Need a faster way to implement new features on your existing call center platform? StarPound easily integrates with other contact center technologies, such as those from Avaya, Mitel, or eOn. Or, StarPound can be used by itself to generate advanced software-based VOIP contact centers, offering new levels of functionality as well as reduced overhead costs. No other contact center software vendor can offer all of this. And certainly no one else can offer these features for no upfront costs or recurring licensing fees.
Want to leapfrog existing platforms with a hosted VOIP-based contact center? StarPound can handle the entire job. And StarPound Technologies can even host the resulting application for you, allowing your transactional costs to scale with your business.
Stability
The platform has been tested under a variety of system configurations and loads, and performs at a level consistent with the expectations of today's call center managers.
Ease of Integration into Agent Applications
Routing calls through a contact center and establishing connectivity between agents and your customers is only the first step. What matters next is how you are using technology to support your agents as they assist your customers. StarPound Studio™ makes it ultra easy to integrate just about any backoffice, legacy, or hosted system, including CRM, Case Management, and ERP systems.
Want to Learn More?
StarPound has the platform, the people, and the expertise to bring your enterprise web service and mashup vision to life. In addition to helping you develop critical web services, we can also make them available in the cloud in an affordable on-demand pricing model. To learn more, please contact us today!